RexDon's Early Days: A Determined Entrepreneur and a Truck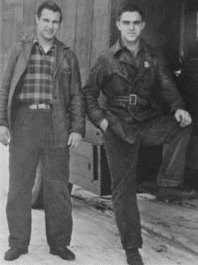 RexDon Power Only began as Don's Transfer in 1946. It was founded by Don Thomason, a sole proprietor who moved household items. By 1960, the transfer firm had grown to five trucks and a tractor trailer.
Don's brother Rex joined him as a partner in 1964, and the company became known as Rex & Don Van Lines. Together, the brothers would move just about anything back in those days. Rex went on the road while Don managed the office. They charged 15 cents per mile, round trip, plus $2.50 per hour for Don and Rex's manual labor.
Eventually, Don bought out Rex's share of the business. Don remained the company's sole proprietor until 1978, when he sold the business to Chris, his oldest son. The business began to focus on towaway trailer delivery in the early 1980s. In 2004, the name of the trailer transport company officially became RexDon Inc. Chris's brother, Jerry, joined the company in 1994. In the late 1990s, Jerry became general manager, a partner in 2012, and President in 2017.
Continuing a Tradition of Reliable, Cost-Effective Service
The trailer transport business has evolved tremendously since those early days. No longer are we household movers. Today RexDon, Inc. is a leader in a market niche, specializing in power-only trailer transportation. We now employ a large fleet of owner-operated trucks capable of transporting:
Single trailers, empty or loaded with your freight
Pups (double trailers) with our dolly-converter gear or yours
Stacks of flatbeds
Trailer-mounted equipment
Specialty moves
We understand that your trailer or equipment needs to be transported undamaged and on schedule. And our ability to pull pups means you won't have to make two trips, saving you time and money.
As far as our reputation is concerned, we're still known to provide honest, fair and dependable trailer towaway service. At least that's what our customers tell us. And RexDon continues to serve customers across the 48 U.S. states. Those customers include:
Trailer manufacturers
Trailer dealers
Leasing companies
Trailer repair or customization facilities
Others with a power-only transportation need
Our customers could choose any one of a number of power-only transportation companies that do what we do. We thank them for choosing RexDon.
A Commitment to You, Our Customer
Dedicated to handling your trailer and equipment towing on schedule and on budget, we pride ourselves in getting the job done right. That's the way Rex and Don did business and that's the way RexDon does business today.
Whenever we're planning out a trailer transport job for a customer, we always follow a three-step process here at RexDon. Our customer is number one. We do everything we can to fulfill your request to the best of our ability. Your satisfaction is our top priority.
Our drivers take the number two spot. Of course, they're very important to our operations. And yes, our staff comes in third place. But they don't mind. They're here to serve you.
In that way, we can assure that we're doing everything we can at RexDon to keep you — our customer — happy and maintain a long-term business relationship that benefits us all. That's one reason we've been able to stay in business despite some tough years that put other transportation companies out of business, our pledge to service.
Our Drivers Are Exceptional
Our owner-operator drivers are an important part of RexDon. They represent us on the road. Without these dependable, hardworking, caring professionals, we wouldn't be the company we are today. We like to work with the best and welcome them to the RexDon team. The average driver in the RexDon fleet has over 20 years of over-the-road transportation experience! Although we do require that our drivers meet certain qualifications, we consider more than their driving skills. We like to know something about the people we hire. They're not just a truck number to us, they're part of the RexDon family. Yeah, that may sound hokey, but it's true.
Our Support Team Keeps Us on the Right Road
The RexDon office staff has over 200 years of combined experience in the trucking industry. These are the knowledgeable people behind the scenes, who keep RexDon running smoothly. Their goal is to meet your needs and surpass your trailer transportation expectations! We really can't say much more about them, other than they're some nice, friendly folks who do their absolute best to serve our customers.
If you have any further questions, please email [Please enable javascript.].
What some of our clients have to say:
Just wanted to say we are very pleased with the transport form Ohio to Los Angeles. Tony did a great job getting here on time. The 5am delivery was critical with a busy hospital, everything went well. We will be in touch for future transportation needs. —Bob, MHC
REXDON has been absolutely wonderful to work with. Kevin and the rest of the guys are great about getting quotes, being price competitive, and getting trailers moved in a timely fashion. The drivers are equally as good to work with. It's rare in this day and age to find people so easy to work with and that go out of their way to earn and keep your business. REXDON is a top-shelf organization and I'm very pleased to say that we'll continue to use them in the future and refer as much business to them as we can. —Tracy, Diamond T Truck & Trailer
I love working with this company. They are the only company I will allow to come into the offices when a trailer is delivered here to corporate. The drivers are always clean and neat. — Kristy, Utility Trailer Manufacturing
You have a great staff and have done a wonderful job for us over the years. Thank you for what you have done for us! — Bruce, Kentucky Trailer
We welcome your feedback about our services! If you would like to comment, please email [Please enable javascript.]. We may even ask your permission to publish your feedback on this site!